Jerry Morgano Crashes at NMRA:

A Crushing Delay For Team Venomous Motorsports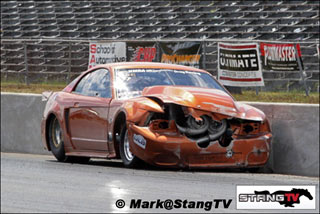 Before this website was ready to show to the fans, the unthinkable took place for team Venomous Motorsports.

During the test sessions Jerry Morgano was ready to shoe the brilliant Mustang into a top spot in qualifying but a turn for the worst took place before Morgano could even get into the ladder of racers. The car launched hard and was on a screaming pass across the 60ft beams when 1.3 seconds into the run the Mustang haunched up on the rear tires breaking them loose.

Morgano shifted into second and tapped the brakes to scrub off some speed while it may have been useless since wheel speed had more than doubled and boost was taking over from the twins. Billy Driscoll had a birdís eye view of Morgano crossing hard into the wall directly in front of him but was incredibly able to stop his motion as the wreckage took place. Morgano stated that the car would usually just break the tires loose but stay straight in a similar situation, this was the first time it decided to steer hard right across the lanes.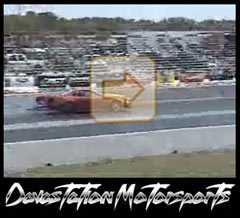 Morgano was thrown into the wall at -5G's and walked out unhurt but sore for a bit but was sure had he not tapped the brakes the car would have rolled at the speed and angle is was carrying when it was out of Jerry's hands for a mere three hundredths of a second. It's still not known what caused the catastrophe but the team will have just several short weeks to repair the damage and be ready for the rest of the season. All of the main turbocharging induction and exhaust was destroyed including the custom front end, quarter panel, one rear wheel and a host of other expensive items.

Be sure that Team Venomous is already hard at work making the calls to get the needed parts inline, back on the car and ready to race so stay tuned to Venomous Motorsports for upcoming installments of the rebuild and wrenching, then back to the track coverage ASAP.










Photos Courtesy Of Stang TV Race Coverage
Video Courtesy Of Devastation Motorsports Online

Jerry Morgano 4.40 @ 175:

From South Georgia Motorsports Park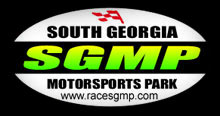 Jerry Morgano may have just set the record for the quickest and fastest small block twin powered Outlaw 10.5 in South Georgia while testing for the upcoming NMRA race in Bradenton running a 4.40 flat at 175 and some change. The team is stoked about this with a fresh rebuild on the motor by Anthony DiSomma and some killer tuning by DCB Enterprises. Jerry was flat out flying on his last of four passes and back in the trailer with a smile heading home.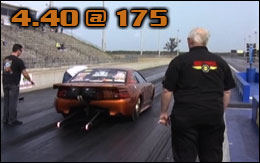 First run was aborted due to his intake tube blowing off but managing a 4.40 on a legal NMCA small block is astounding out of the trailer. Tim Lynch and Steve Petty were on the line to "Quote, that's one helluva screaming smallblock pass".

Just added is this wicked pass down the 1/8th mile at South Georgia Motorsports Park. There's Carl From Mickey Thompson Tires And Wheels In The Video Too !!

Click The Image Or This Link For A 16:9 Hi Res Video



Jerry Morgano In Force Fed Magazine:

Only The Force Fed Need Apply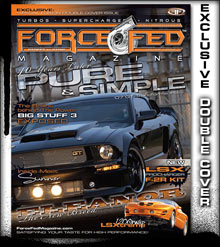 Many have seen various publications in the stores, speed shops and various internet subscriptions but none like the new "Force Fed Magazine". This print copy sets a standard for the industry that will not be duplicated in quality and content. Mark at Force Fed is behind the incredible publication that was only just recently revealed to the public, featuring all makes and models of power adder assisted rides be it turbocharged, supercharged or nitrous injected.

Jerry Morgano's ride caught the eye of Mark and immediately he set forth tracking down Jerry Morgano to feature this immaculate Outlaw 10.5 Mustang Cobra titling the article "This Mustang Kicks Back".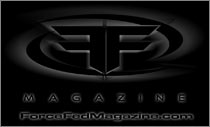 The shining example of Jerry Morgano's Mustang was brilliantly represented in photo quality heavy stock paper that only Mark at Force Fed can make possible with his skills of combining excellent type and color work in his magazine, the photos and layout simply are amazing when Mark lays down the outline and puts it into print.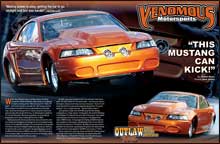 Jerry's feature brought an appealing look with the stunning color of this Mustang, its performance and Jerry's record as a showman and respected drag racer in many different series. The article contains almost all the information possibly needed for you so when you visit Team Venomous Racing at the track, you'll feel like you know both the driver and the car inside and out.
Cick Here For Hi Res PDF or Right Click And "Save" for home reading of "Force Fed Magazines Spread

The Official Force Fed Magazine Website

Visit Mark at Force Fed on Myspace



Jerry Morgano "Real World In Race Pages:

By Jason Reiss Courtesy of NMRA Race Pages



We recently asked Jerry Morgano a financial planner for Ameriprise Financial Inc. to talk a little bit about what exactly it is that he does on a daily basis, and he was more than happy to explain it to us.

ďA lot of people seem to think that financial planning means youíre on Wall Street trading stocks every day like the people on TV". Investing and managing money is a part of my job as a financial planner, but only a very small part. Read The Full Article Here By Jason Reiss



Outlaws At Atco 2007 Coverage:

Outlaw 10.5 Report From goDragRacing.org


Outlaw 10.5 Eliminations Round One: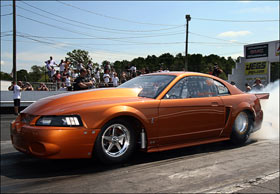 Two big guns pulled in first to set off the days racing for the premiere show Richie Sexton's GTO faced the opposing Chevelle of Lou Denny with Dave O'Donnell screaming through his burnout. The crisp idle from the Fulton Powered machines broke into a hard stab on the throttle as O'Donnell .055 and Sexton .041 launched hard, Sexton never needed to look back 7.091 @ 198.73 to Dave O'Donnell's tire smoking 10.780 @ 108.30. Brian Penna gets the jump on the tree 025 against a sturdy opponent Chuck Ulsch .068. Ulsch still had the tune up as Penna falls 9.311 @ 102.37 to Ulsch's amazing heat of the day 6.995 @ 203.98 this was surely a wake up call for the rest of the group. Shawn Zubler drew Scott Curtis, both left with nearly identical reaction times .059 and .056 respectively. Zubler 7.400 @ 194.35 crosses the beams ahead of Curtis 7.648 @ 187.47, Zubler will see another round. A strange scenario as Todd Harris usually has father Paul there helping put the car in the beams against John Cheman. Harris cuts an .069 yet fails to move thinking he red lit and gives the possible win away 15.615 @ 58.73 without a battle to Cheman who storms to a win .133 7.367 @ 198.15. Chris Keilitz .019 7.620 @ 192.88 takes a major upset win over Manny Sirris .058 17.396 @ 73.54 who battled tough with a door being lost in qualifying and takes away his chance to see a second final in the two year history of this race. With all the hard work done to the Mauro Camaro the night before, Harry Jarvis gets an easy win .124 7.470 @ 198.64 over a red lighting Tommy Mauro -.012 7.597 @ 187.29. Ray Johnsonís luck and help from racers was done and over with as the car staged and it was now up to the car facing number two qualifier Charlie Dolbin who also was unsure if the major repairs would hold. Johnson gets the leave .072 to Dolbinís equally good .087, Johnson couldn't catch the brute nitrous powered Mustang and Dolbin takes a hard earned win 7.222 @ 189.31 to Johnson's losing effort 7.549 @ 195.28. Both Jerry Morgano .156 and Rick Fedorovich .186 were late on the tree but a very even start none the less, Morgano powers out a smooth run to the top end 7.488 @ 187.78 to Fedorovich who blistered half the track not getting out of the throttle until the tires screamed for mercy 16.548 @ 48.35.

Outlaw 10.5 Eliminations Round Two: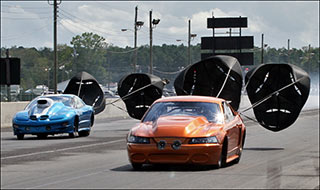 John Cheman would have to put his big blower power up against the raging Fulton 870 with Chuck Ulsch behind it. Ulsch nails a light, .079 and Cheman is standing still .223 as nothing was stopping Ulsch; on the top end the boards read 7.006 @ 203.80 for the win over Chemanís 7.252 @ 199.02.

Jerry Morgano .110 would see some pressure from Shawn Zubler .040 on the launch but Zubler 7.532 @ 193.16 would fall behind up top as Morgano pushes the Cobra to a win 7.168 @ 200.02.

Big power keeps testing Team Caldwell and Charlie Dolbin as Harry Jarvis has twin turbo power lined up next to him. Jarvis gets the tree .067 but not by much over Dolbin .088. Dolbin 7.193 @ 188.54 leads Jarvis to the top end 7.380 @ 184.72 testing the Mustang some more. Richie Sexton .049 is stunned in this round as Chris Keilitz .042 both left almost identical on the tree, Sexton's 7.483 @ 194.60 isn't enough to catch Keilitz 7.395 @ 194.21 in a major upset for Team Mobley.

Outlaw 10.5 Semi Finals: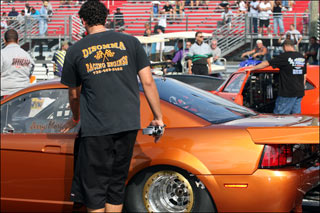 With everyone showing their hands early and some cloud cover on the track, some big numbers could come from the last fantastic four. Jerry Morgano .033 and Chris Keilitz .037 were great on the tree Morgano 7.665 @ 193.40 stays out ahead of a pedaling Keilitz 10.322 @ 86.19. This will go down as the race of the season so far as both Charlie Dolbin and Chuck Ulsch were at the tree together. Dolbin takes the leave .043 to Ulsch's almost equal .048, both cars chugging out the nitrous tune to the top end as Chuck Ulsch cuts the lights first 7.012 @ 204.05 to Dolbinís 7.048 @ 192.69 in the closest and quickest side by side nitrous race all season, Team Caldwell's hard work paid off for the fans to have a chance to see this go down!!

Outlaw 10.5 Finals: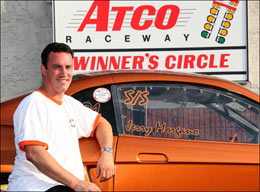 With the burnout box prepped for the final and full cloud cover on the track the well known Camaro of Chuck Ulsch leading almost everyone in points and wins across the eastern seaboard was facing an unknown entity in Jerry Morgano who until this minute has not seen in a final since the beginning of the year. Who knew what the new combination was capable of from Morgano? Both cars featured their burnouts and readied the cars. At the drop of the tree, Morgano goes RED hard -.093 handing Chuck Ulsch the $10,000 in prize money before the race was started.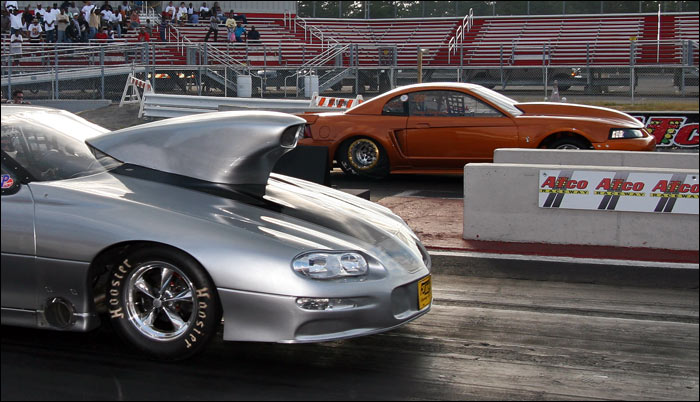 Morgano strolls to his days end 12.486, 66.46 as Chuck Ulsch leaves a trail of warped air behind him for a crowd pleasing pass and superb final end to his weekend .062 7.000 @ 203.00. Congratulations to Team Gil Mobley Motorsports and Chuck Ulsch in an Impressive showing in the Northeast and the First "Outlaw 10.5" Champion at "The 2007 Outlaws At Atco"